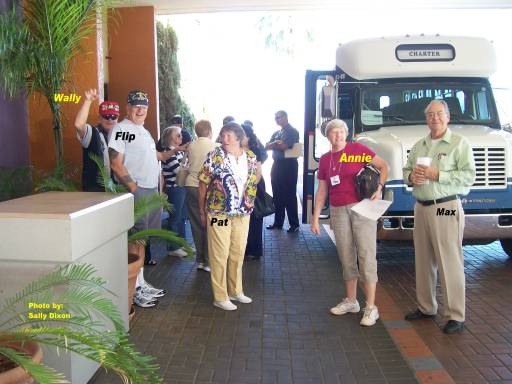 Crowd gathers for visit to an 18th Century Mission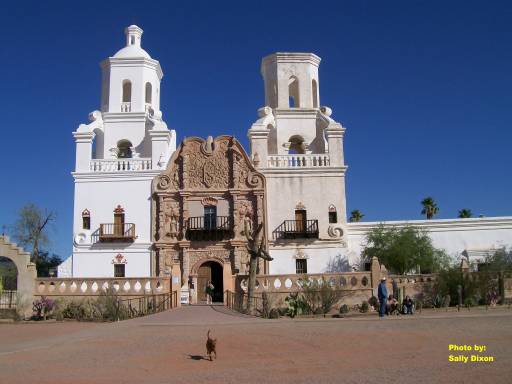 San Xavier del Bac, completed in 1797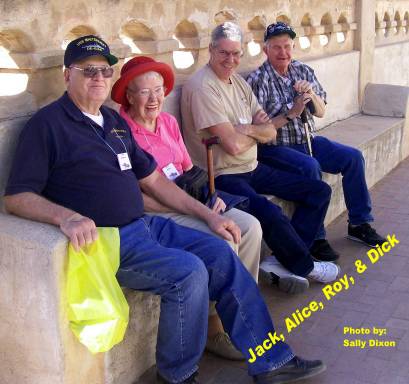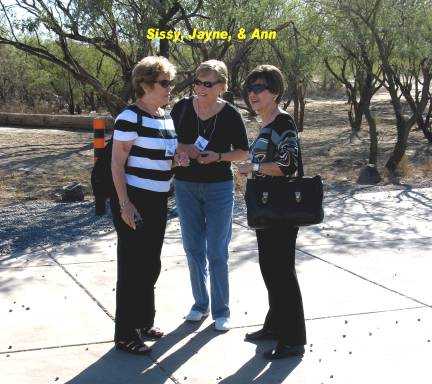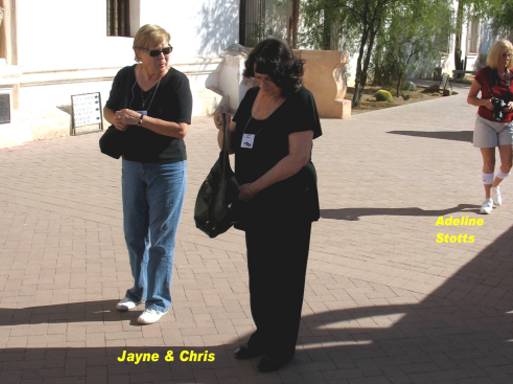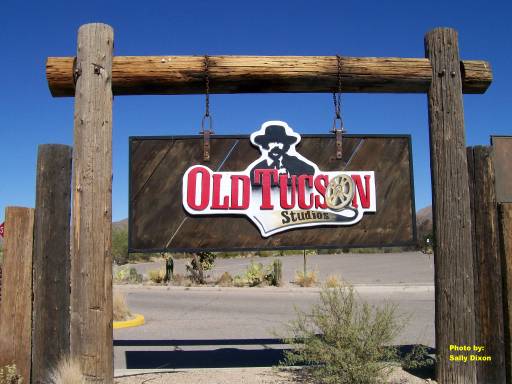 Second tour was to the Movie Set, Old Tucson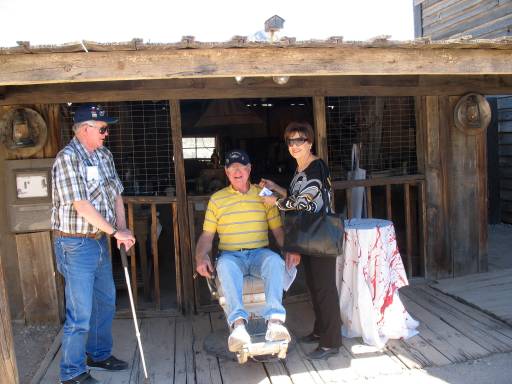 Dick Dixon, Jim Bruffett, & Ann Hayes visit an old Barber Shop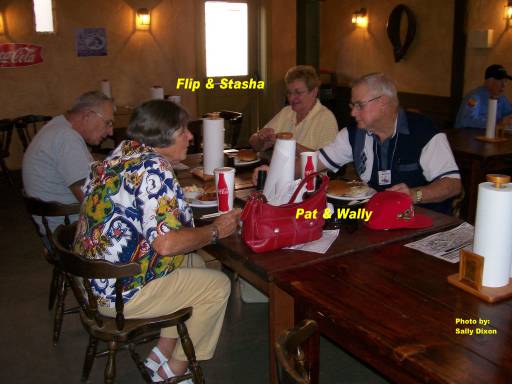 Lunch at Big Jake's (No relation to Host Jake Houser)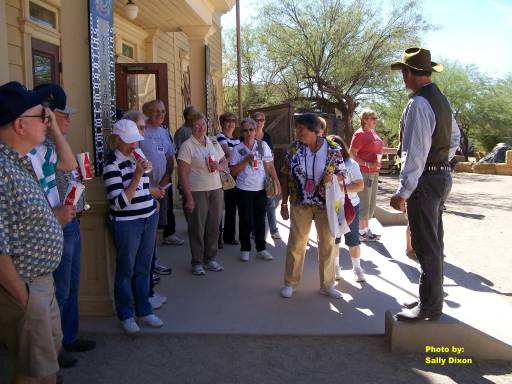 Sheriff warns watchers to stand clear of the Gunfighters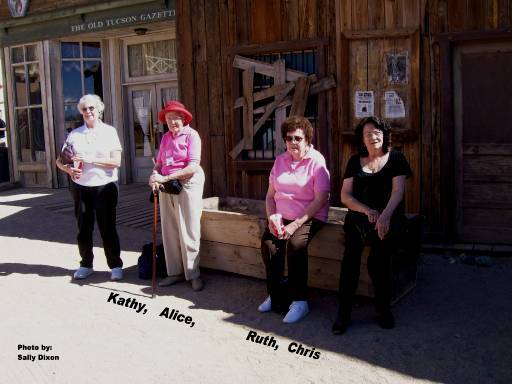 Would you believe these lovely ladies want to see the Gunfight?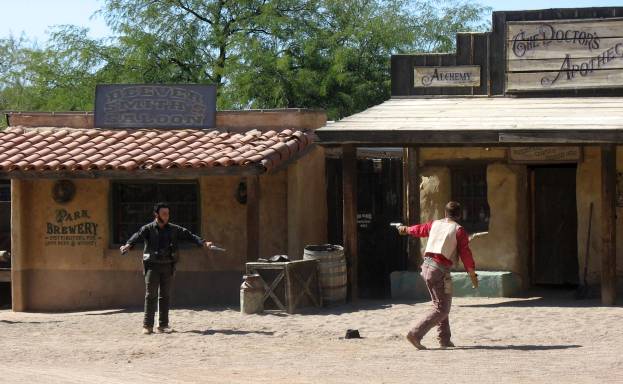 Who's the outlaw?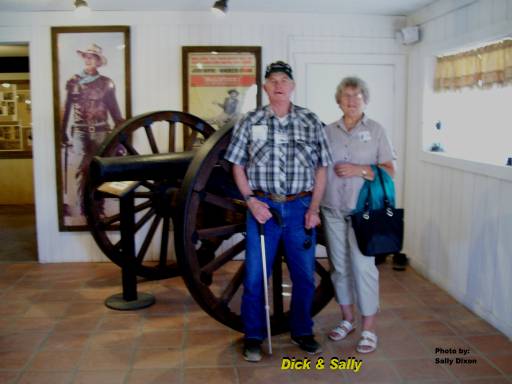 An old Gunners mate and an old Gun.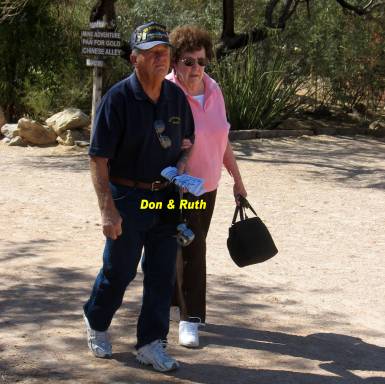 A leisurely stroll in Old Tucson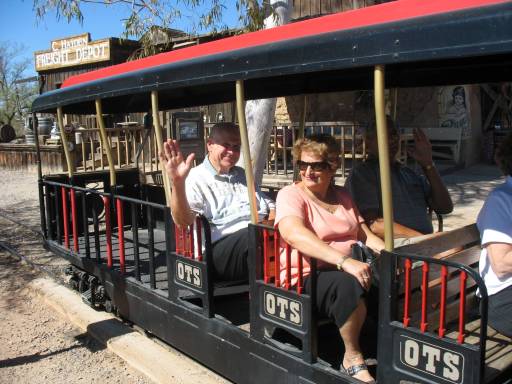 Rod Storz waves a greeting from the Old Tucson Rail Car as our visit winds down.
Saturday October 24th
We loaded the bus again headed for the Pima Air and Space Museum.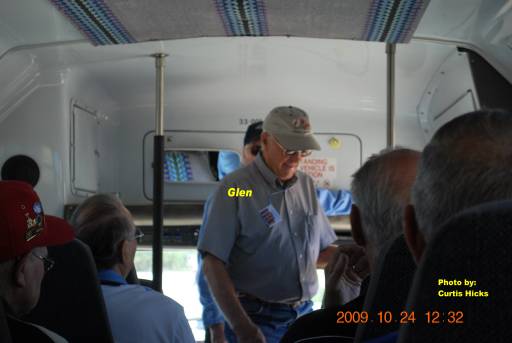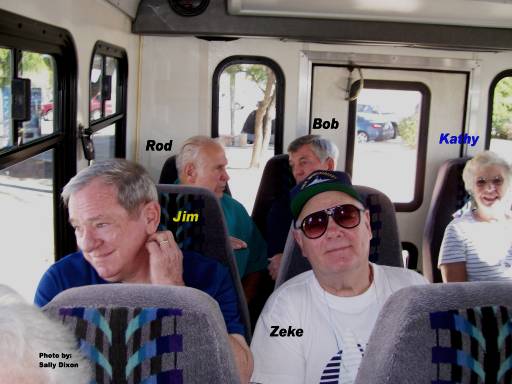 Enroute to Pima Air and Space Museum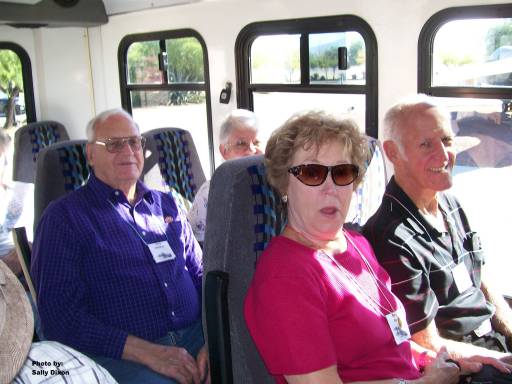 Nettles & Evelo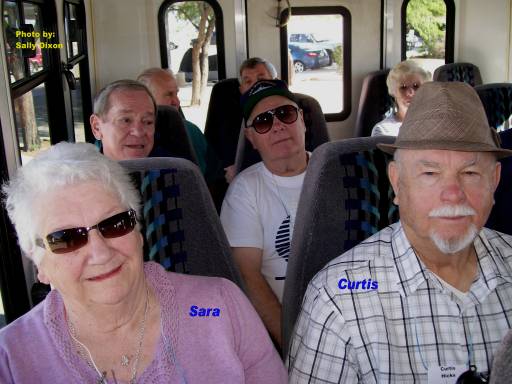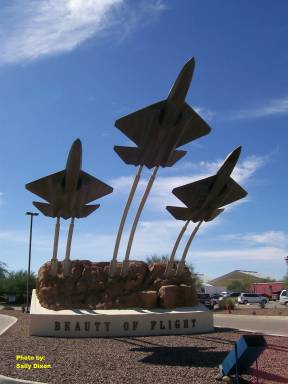 Sculpture at entrance: Pima Air and Space Museum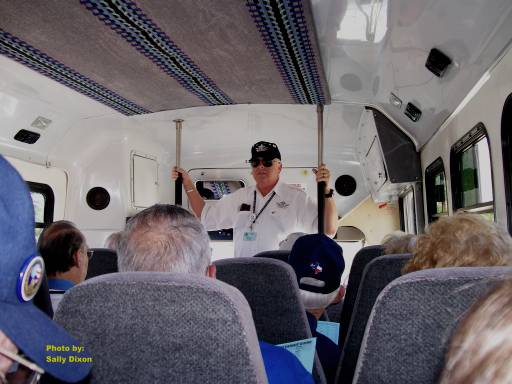 Docent of the Museum efficiently describes the outside aircraft. There are hundreds
of aircraft in all shapes sizes in various conditions of repair and disrepair. We had to
view the outside planes from the bus. The docent was, himself, a pilot and knew the
museum planes very well.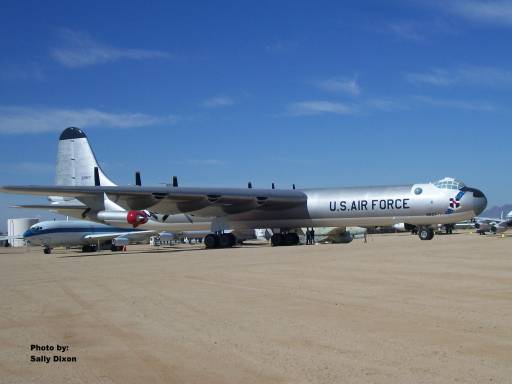 Beautiful B-36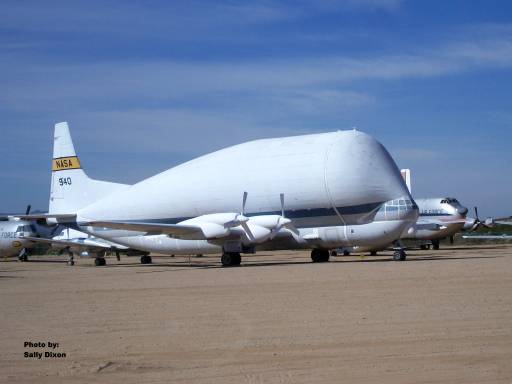 NASA's Freight Plane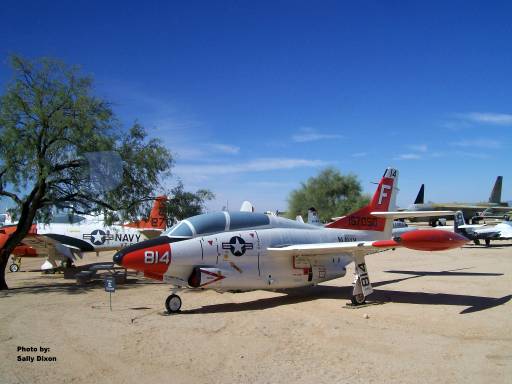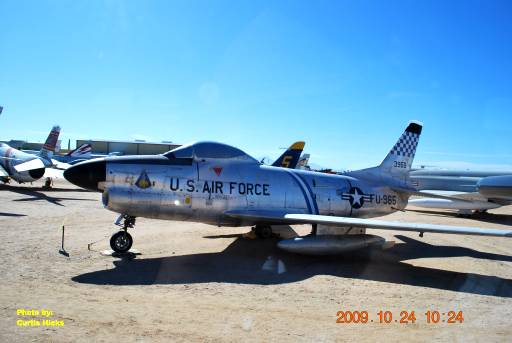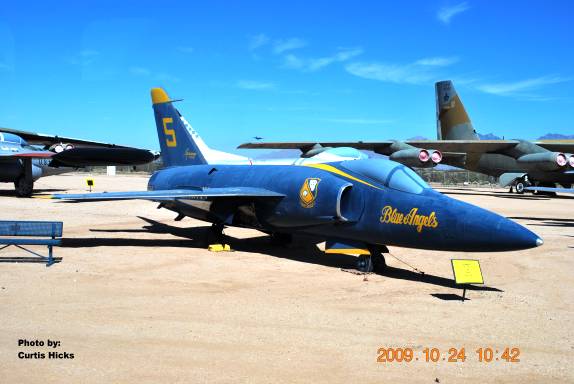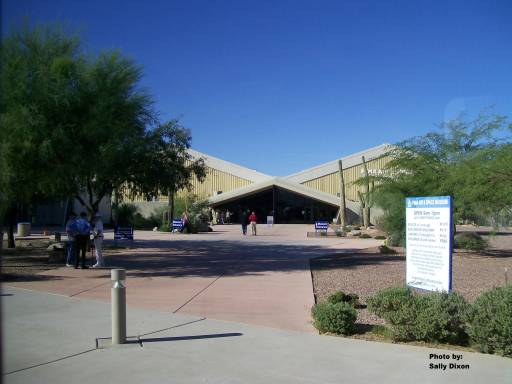 After the outside tour was complete, the bus driver let us out at the entrance to the gift shop
and museum hanger where we leisurely viewed the famous SR-71 Blackbird Spy Plane
and many other strange and wonderful aircraft.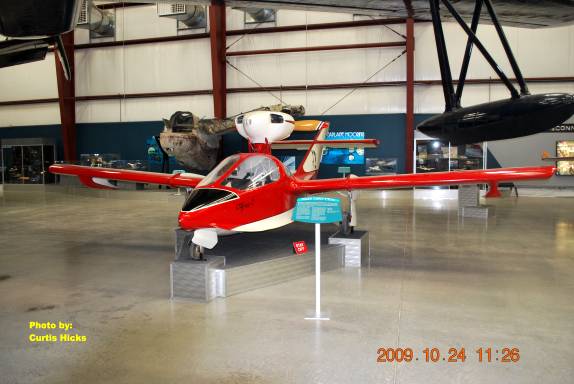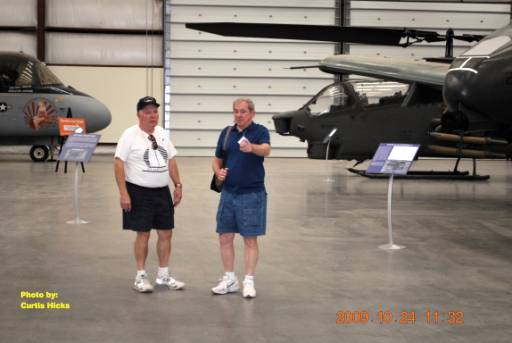 Zeke Frazier & Jim Stotts in Museum Hanger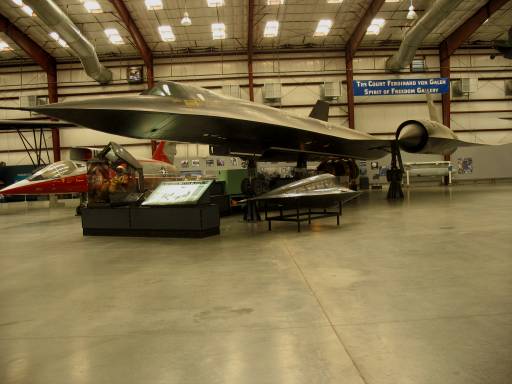 SR-71 Blackbird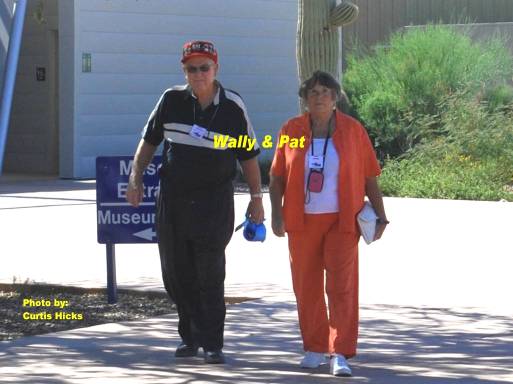 Shortly before time to board the bus we found soft drink machines and a shady place to talk.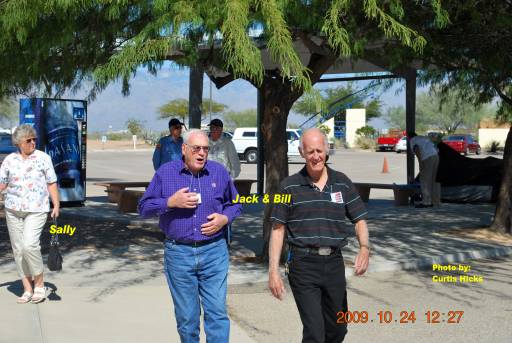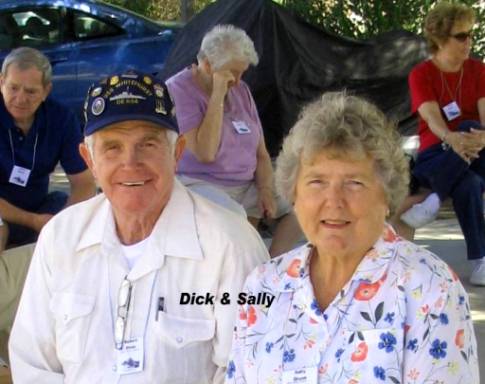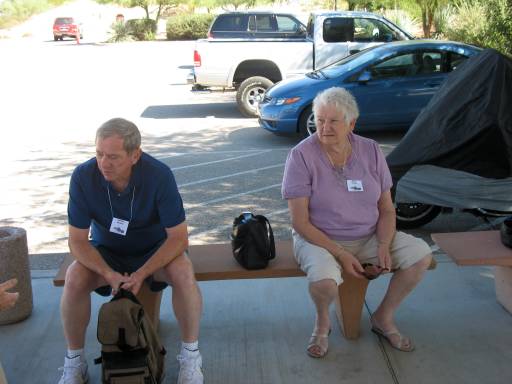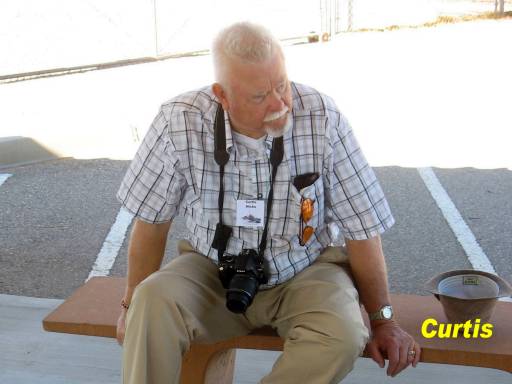 Curtis Hicks agrees, "The shade and the benches are welcome."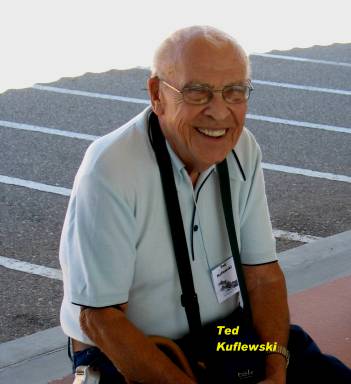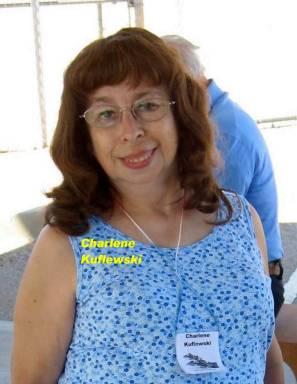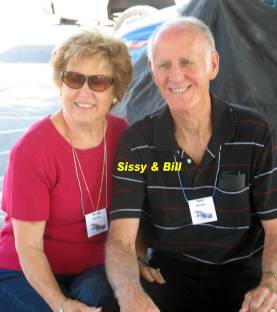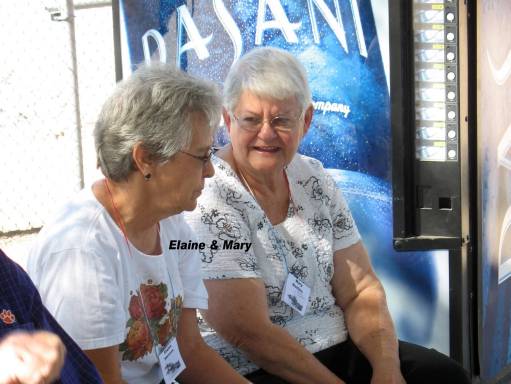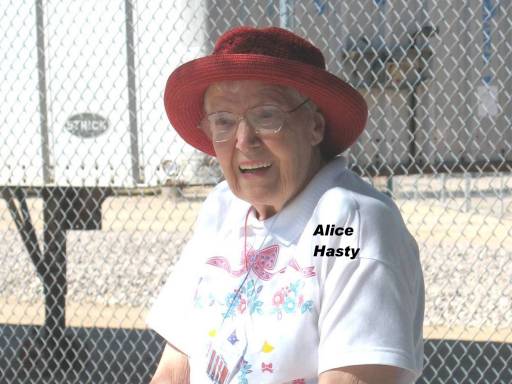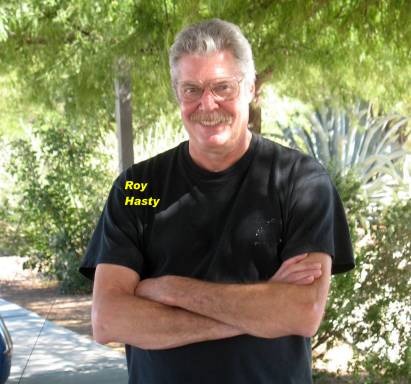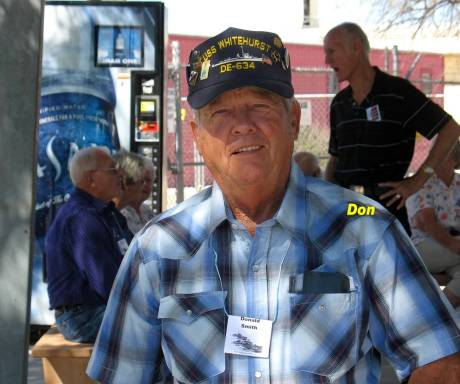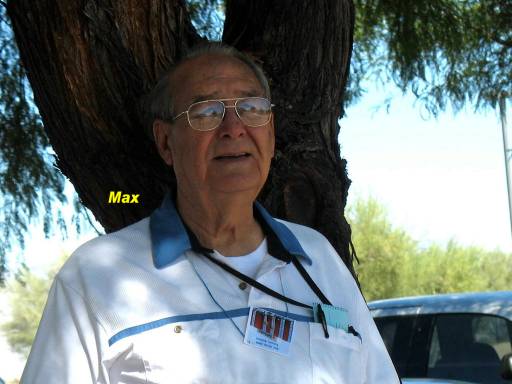 Back to the Hotel where we each found our on way to lunch. Next the women amused
themselves and the men went to the Hospitality Room for a business meeting. Treasurer,
Arnold Pettijohn, gave us an update on the financial status of the USS Whitehurst Assn.
The entire group gratefully voted to accept Wally Shelton's offer to host the 2010 Reunion
in Reno, Nevada.
Closing Banquet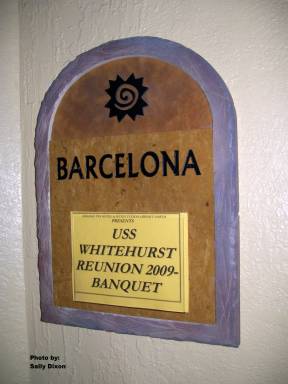 Barcelona Room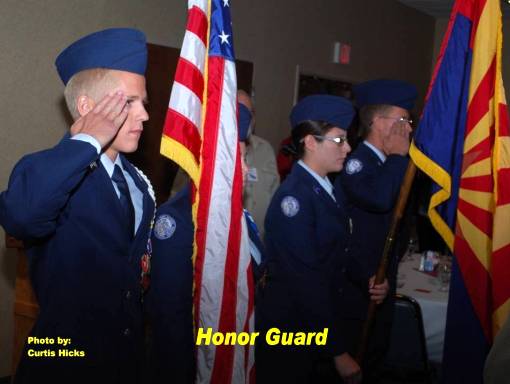 Honor Guard Ceremony conducted by Santa Rita High School, Air Force ROTC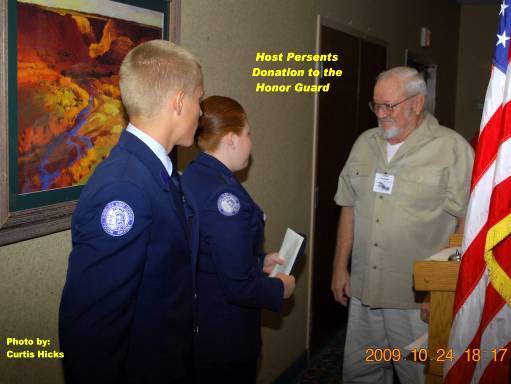 Jake has just presented a "Thank You" donation to the Honor Guard.
The $100 check was authorized at the earlier business meeting.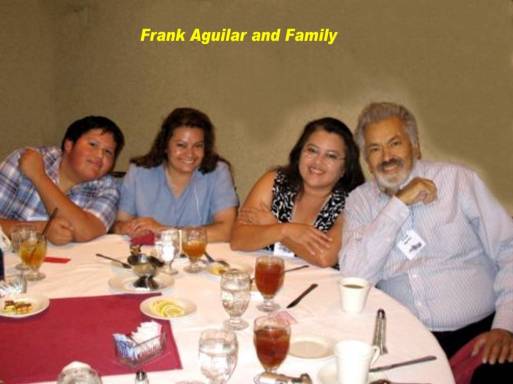 Grandson Rudi, Daughters Elita & Frances and Frank Yeoman, mid 1950s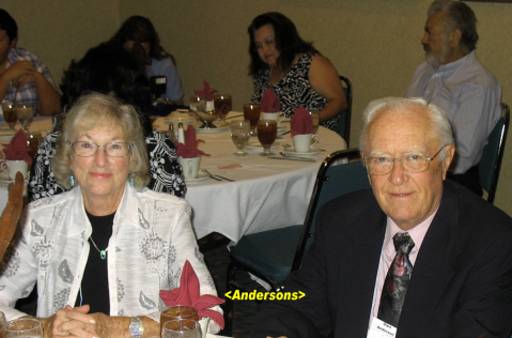 Doris & Glen Gunners mate early 1950s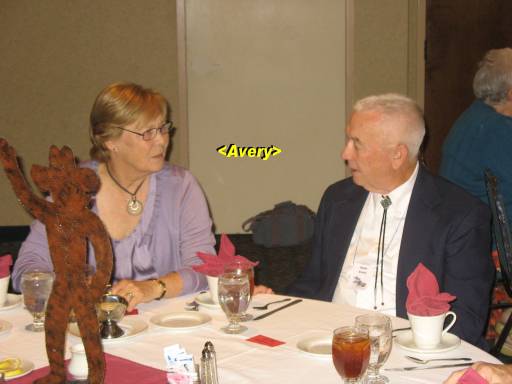 Jayne & Gene, Radarman, early 1950s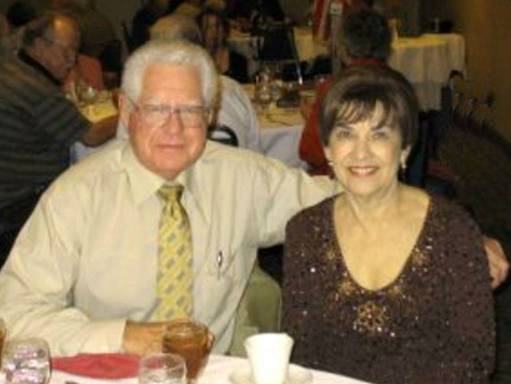 Ann Hayes & Jim Bruffett, Signalman, mid 1950s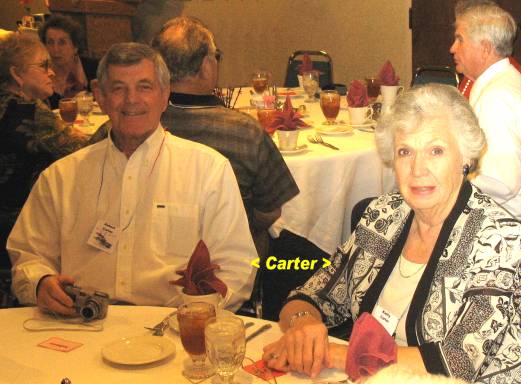 Kathryn & Bob Carter, Quartermaster, early 1950s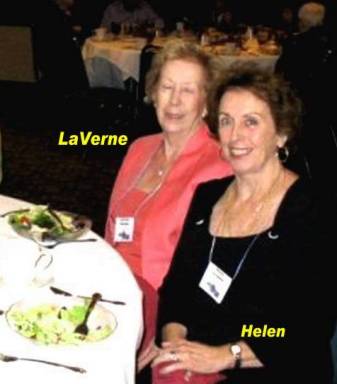 LaVerne Garstka, sister of Helen Congdon,
Widow of Cliff Congdon, Fire Controlman, early 1950s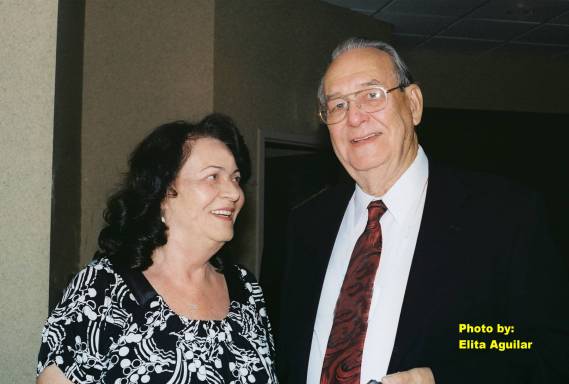 Chris & Max Crow, Fire Control Tech early 1950s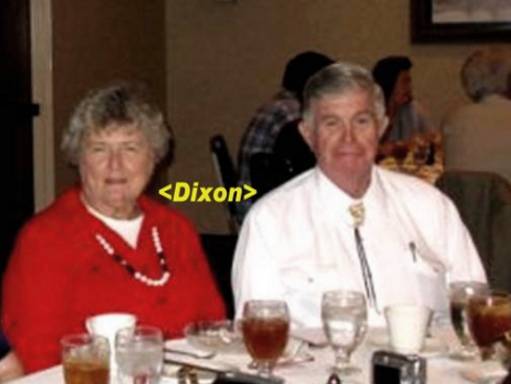 Sally & "Dick" Dixon, Gunners mate mid 1950s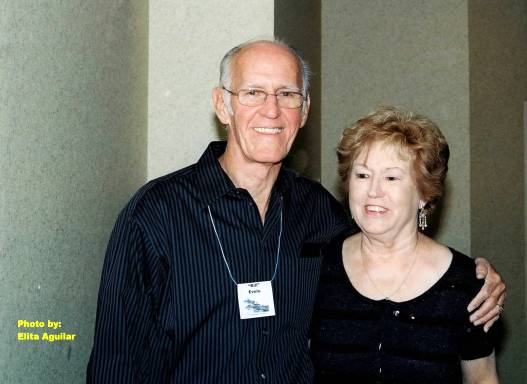 "Sissie" Evelo and Bill, Seaman mid 1950s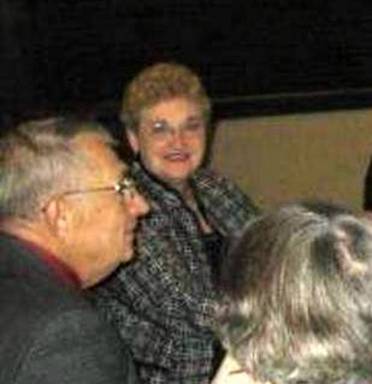 "Stacia" & "Flip" Filipiak, Radioman mid 1950s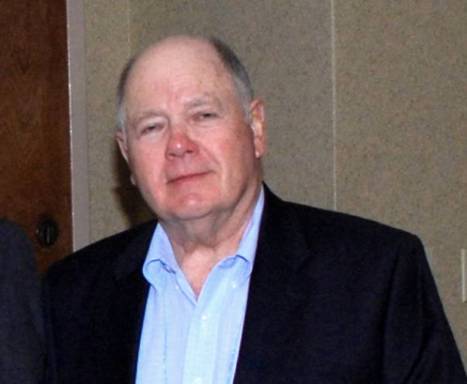 "Zeke" Frazier, Machinist mate, early 1960s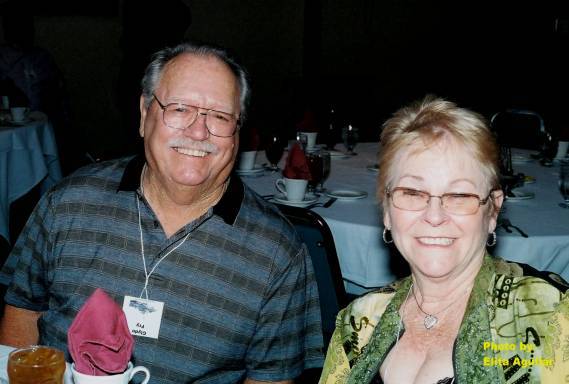 Sharon & Clyde Fry, Laundryman, mid 1950s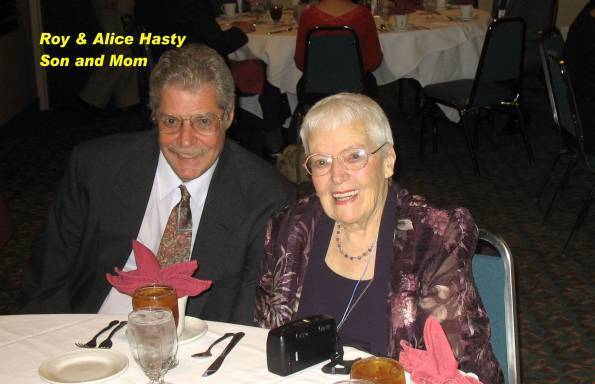 Alice the widow of Roy Hasty, Quartermaster early 1950s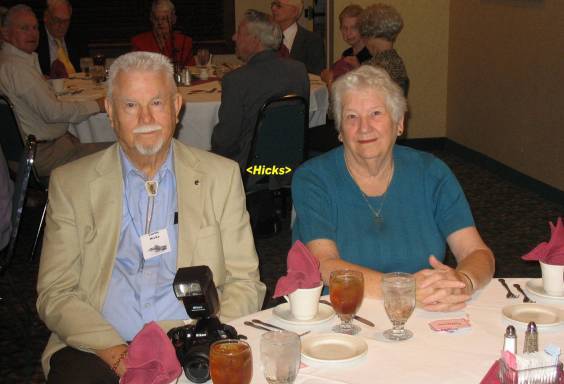 Sara & Curtis Hicks, Electrician, early 1960s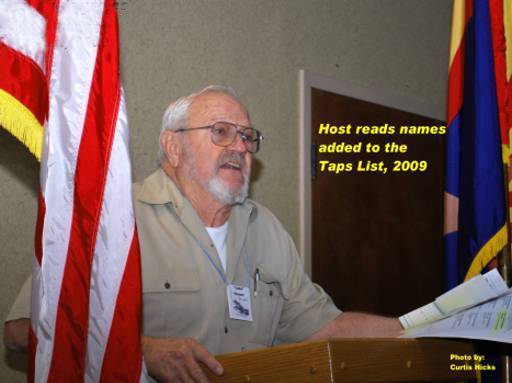 Annie and "Jake" Houser, Sonarman early 1950s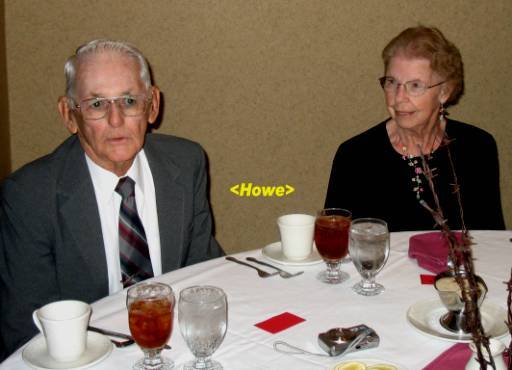 Rae & "Jim" Howe, Quartermaster mid 1950s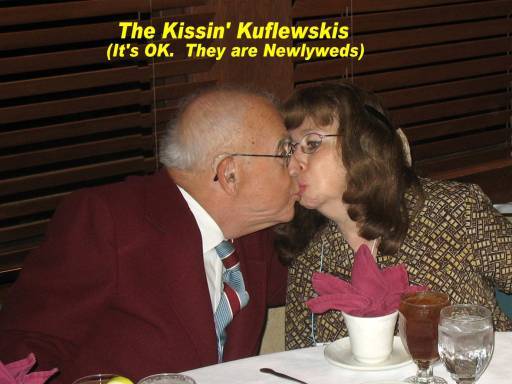 Charlene & Ted Kuwflewski, Quartermaster early 1950s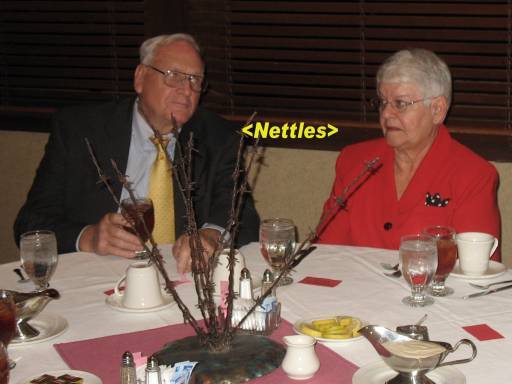 Mary and Jack Nettles, Boiler man early 1950s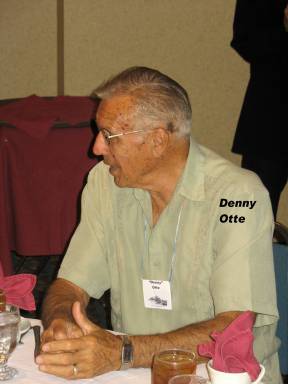 Denny Otte, Gunners mate early 1950s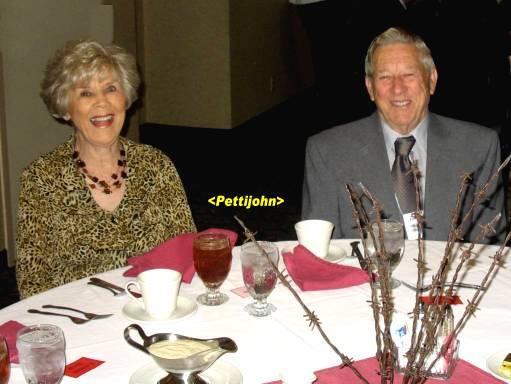 Gladys & Arnold Pettijohn, Boiler man early 1950s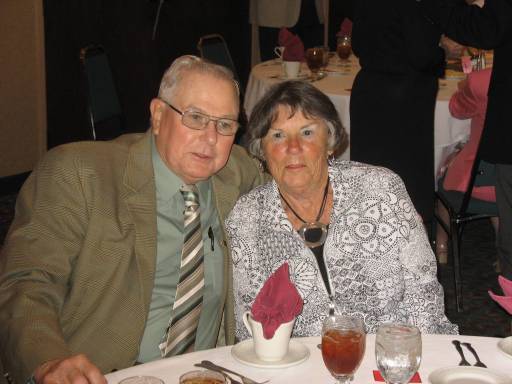 Pat Phillips and "Wally" "Pete" Shelton, Radarman mid 1950s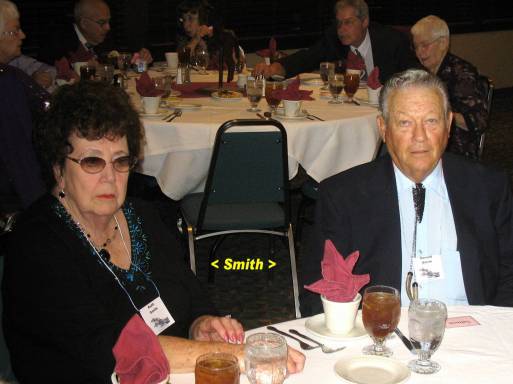 Ruth & Don Smith, Metal smith early 1950s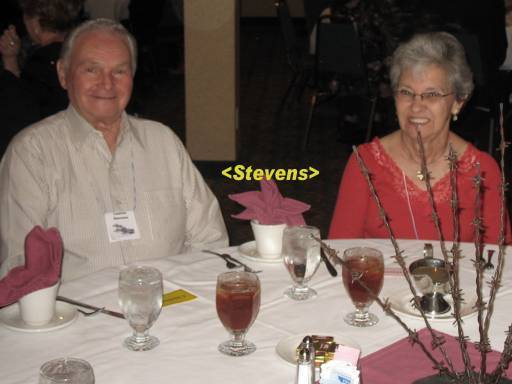 Elaine and Lauren "Steve" Stevens, Machinist mate early 1950s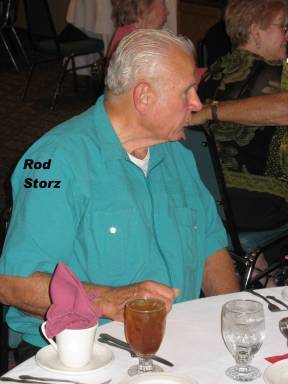 Rod Storz, Radarman early 1950s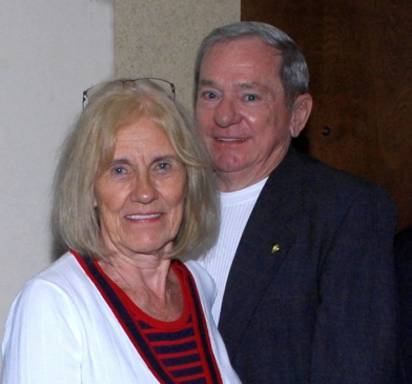 Adeline & "Jim" Stotts, Electricians mate early 1960s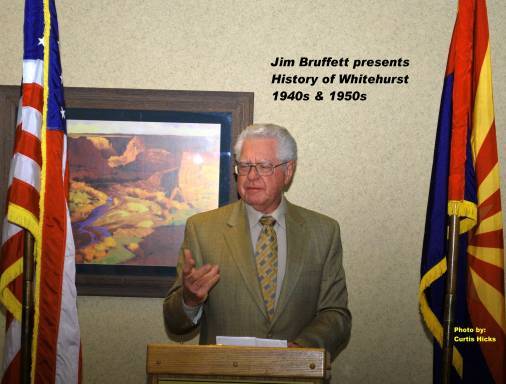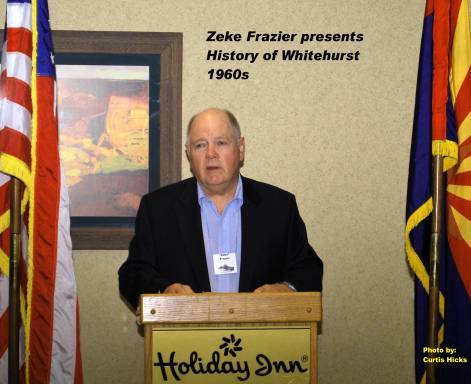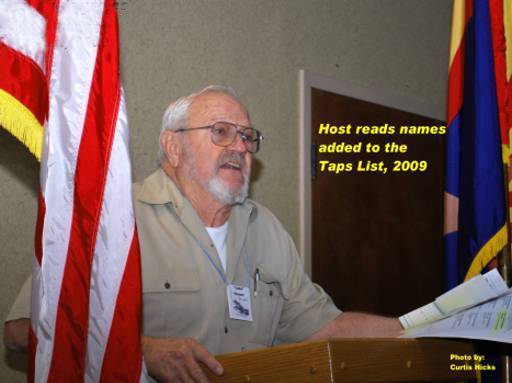 At each reunion, we announce the names of our shipmates who have
passed away since the last reunion.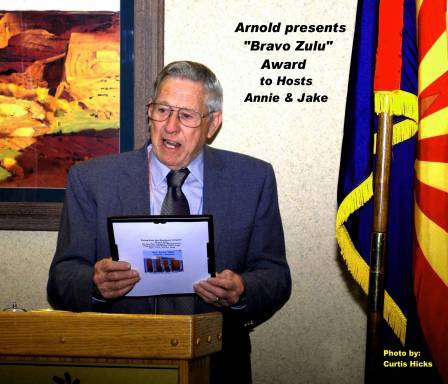 Arnold Pettijohn praises the work of the hosts, Annie & Jake

Jake receives the Bravo Zulu award
(Bravo Zulu is both Radio and Flag Hoist signal meaning "Well done")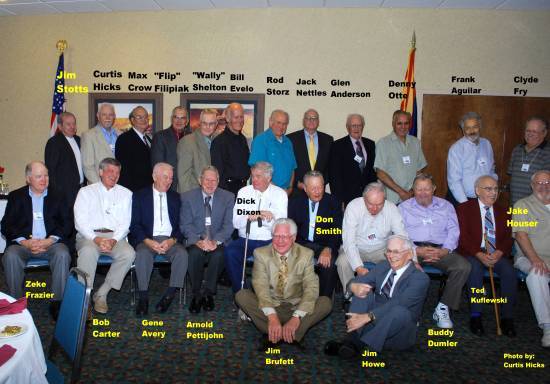 ReU-2009 Whitehurst veterans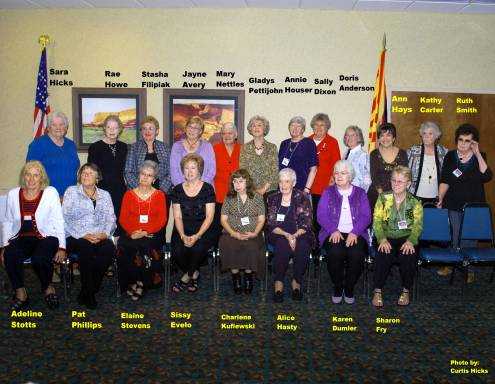 Wives and Companions of ReU-2009 Whitehurst veterans
After the awards, photos, and fellowship, ReU-2009 is officially over. There will be more fellowship and farewells during hotel checkout period on Sunday a.m., Oct 25.
We all hope to meet again at ReU-2010 in Reno, Nevada, next September.
To report errors or ask questions write to:
Webmaster crowmax@aol.com