Jack Carter Horton
1915 – 1970
Prepared by his son, Donald, and daughter-in-law, Michele, 2012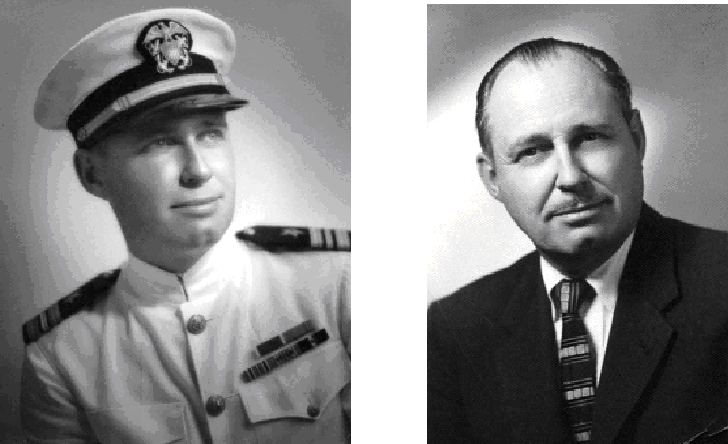 Jack Carter Horton, born in Camden, Texas, in 1915, was a much adored only child of his parents. Perhaps his mother had a premonition of later years, because her young son was nearly always photographed in a sailor suit. The young Carter (as he was called then) wrote home from YMCA camp in 1929 that he had passed his canoe test and was now in sailing class. He got his first ocean experience in the summer of 1936 when he worked as a crew member of the Lykes Bros. Steamship Company, and sailed as far as Antwerp. He wrote of cleaning holds, and striping and painting the ship from stem to stern. Following that he began his career as a salesman while also going to Rice Institute in Houston.
In late 1940 Jack began his career with the US Naval Reserve as an Apprentice Seaman on the USS Quincy. Following that he was sent to the US Naval Reserve midshipmen's school at Northwestern University in Chicago. He was one of 738 graduating and receiving the commission of Ensign. From there, March 1941, he went to Cornell University in Ithaca, NY for diesel engine instruction. While there he married his hometown sweetheart in the University Chapel. In late, '41, while waiting for his ship to be completed, he was stationed in New Orleans and worked at the Aviation Base. In early 1942, Jack was in Seabrook, TX for the christening of SC-501, and did service there. He received promotion to Lieutenant (junior grade) in June of that year. He was then sent to Philadelphia to await the completion of his next assignment – the USS SC-630, where he served from August, 1942 to July, 1943. After that, he went to a Naval Training Center in Miami for instruction in new tactics and equipment. In August of '43 he wrote home that he was disappointed because "they wouldn't let me be an engineering officer. Instead I have been put into the Command Group." Soon his daughter was born, and he received news that he had been selected as Executive Officer for a Destroyer Escort, one of the fastest of its class – the USS Whitehurst, DE-634. The ship was being built in San Francisco, but he first had to go to Norfolk, VA where the crew was training. The Whitehurst was commissioned on November 19, 1943 and from there – the rest is history, as they say, as others have written extensively of her duty.
Lt.Cmdr Jack C. Horton left the Whitehurst and was mustered out in December, 1945. He joyfully returned home to Houston, Texas and his wife and 2 year old daughter. In 1946, Jack picked up his chosen pre-war career as a salesman. The family moved to San Antonio and then Harlingen, TX while Jack was an appliance sales manager for the General Electric Supply Corporation. During this time a son was added to the family and Jack was then promoted to manager of advertising and sales promotion at the firm's Houston office.
<![if !vml]>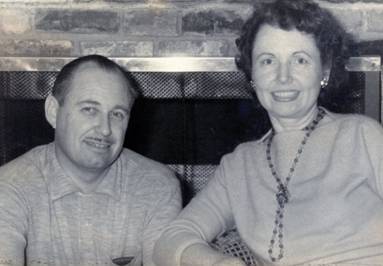 <![endif]> <![if !vml]>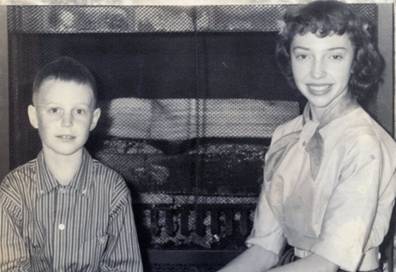 <![endif]>
Jack and wife Dorothy Donald and Elaine
In 1956, the family moved to Atlanta, Ga., where Jack sold Friden mechanical calculators and then Strick trailers. 1961 saw the family back in Houston where Jack worked for Univac, selling large main frame computers, and later was a manager for the Houston branch of Honeywell, Electronic Data Processing Division. In the 60s Jack encouraged his son, then in his teens, to take classes in computer programming. Jack obviously had a vision as a man ahead of his time, and was in a partnership selling "mini-computers" – a predecessor to early desktop computers, when he died. Wouldn't he have been amazed at where technology has taken us today!
Jack continued his enjoyment of classical and jazz music, photography, and sailing. He was enjoying sharing his sailboat with a friend on July 4, 1970, when a sudden squall capsized the boat. After hanging on the overturned vessel for some time, he saw his guest safely to a rescue boat, and then succumbed. He is missed.
Webmaster's note: Many thanks to Michele and Donald Horton who located the Whitehurst Web Site, and provided the excellent photos and Biographical Sketch. mc